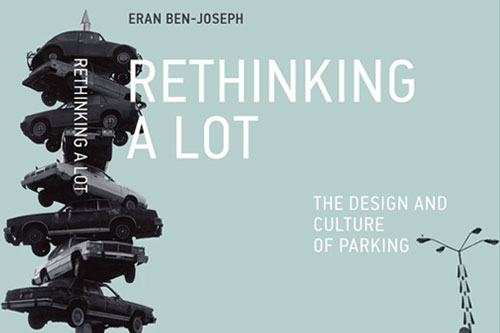 ReThinking a Lot: The Design and Culture of Parking
by Eran Ben-Joseph
MIT Press - 2012
Reviewed by Matthew Urbanski
Surface parking lots are confounding: not only are they are largely ugly, inhospitable, and environmentally suspect, but the core typology is highly resistant to change. In his book, Rethinking a Lot, MIT professor of landscape architecture and urban design Eran Ben-Joseph confronts the vulgar functionality of a parking lot in an attempt to answer the self-posed question: "Why can't parking lots be modest paradises?"
Ben-Joseph approaches this question with a lot of obvious sympathy for his subject matter. The two sections of the book ("A Lot in Common" and "Lots of Time") that examine parking lots as cultural, physical, psychological, and legal phenomenon are both revealing and entertaining. At the same time, he does not seem to be susceptible to the odd, and at times sublime, beauty of the parking lot typology that is evident in many of the photos that he offers as damning evidence.
Ben-Joseph's examination of parking lot design as a cultural indicator ends more or less in the 1970's, which feels like an oversight given that environmental approaches, including the planting of trees to create shade and the inclusion of planted bioswales, for surface treatment of stormwater runoff, have become much more standard in the intervening years. While these interventions seem to offer rich potential for transforming the parking lot experience both in artistic and straightforward ways as well as for softening their deleterious environmental impact, this genre of parking lot is given only passing mention by Ben-Joseph and the examples that are given are not as effectively illustrated as more idiosyncratic and expensive solutions.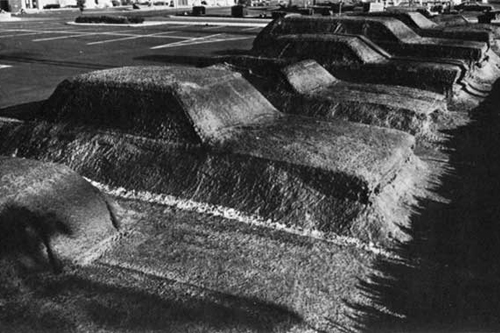 Ben-Joseph's argument that parking lots are so prevalent in our daily life that we should take them more seriously is completely valid and well supported in this book. The difficulty is in asking the right questions to get to the heart of why the vast majority of parking lots look the way they do, and why it is that so many building types require a sea of parking around them. While Ben-Joseph doesn't say this explicitly, there is a tacit assumption in this text that if designers, and their clients, were just more interested in the way that parking lots look, that things would be better. He shares many examples of extraordinary parking lots that he feels exemplify promising directions. Having convinced us of the enormity of the problem, however, the very singularity of the examples he offers in the "Lots of Excellence" portion of the book might lead one to mistakenly assume that there is less hope than there really is for widespread improvement of the landscape type.
Despite the fact that the miserable aesthetic and environmental performance of your typical parking lot are seemingly low-hanging fruit when it comes to the potential to improve on what's there, there are a few unavoidable paradoxes related to the design of parking lots. From the position of policy, and in any discussion with parking lot clients, the following concerns need to be addressed head on:
Footprint:  There are many fine examples of parking lots that go above and beyond the ordinary with respect to ecology and experience, but they always take up considerably more room than a standard lot; this might explain why most examples that Ben-Joseph mentions in his "Lots of Excellence" chapter are either suburban or rural. Even if it were financially feasible, is dedicating more area to parking a typical option? It is possible that new approaches, which reduce the number of overall spaces, could be attempted while the footprint could remain the same through a reconsideration of the basic calculus of parking policy and space allocation, but these factors are frequently controlled by zoning. Parking innovations would require variances that may not be within the client's ability or incentive structure to pursue.
Multi-functionality:  The very aspects of the parking lot that allow programmatic flexibility, which Ben-Joseph rightly extols, are also the aspects that contribute to the feelings of placelessness and alienation. The idea that a parking lot can do double duty as a farmer's market or a music venue works less well when it is treated as a highly choreographed spatial experience in its own right, such as the Dia Foundation parking lot designed by Robert Irwin, which is well illustrated in the book.

Economy of Means:  In places where there is high demand for parking, a lot will be used regardless of the quality of the experience it offers. Because the normal expectations are easily met, there is very little incentive to adopt new practices. Exceptions do exist, but usually because it is in the financial interests of the owners to create a more inviting parking lot (as in the case of resorts), or because the client values experience or ecology over efficiency (universities and private foundations, for example).
Disciplinary Influence:  The 'placeless' parking lots that are the scourge of this book are governed by municipal guidelines and financial incentives, not by design principles. Landscape architects and architects are almost never asked to design a typical lot. Responsibility for the design of parking lots usually falls to civil engineers whose scope of work is frequently limited to satisfying rules of code, regulatory compliance, and construction efficiency. While the book can be seen as a call to arms for landscape architects and architects to take a larger role in the design of these spaces, it does so without a clear articulation of the professional turf battles that would necessarily ensue.
Permanently temporary:  Increasing the amount of design thinking and investment that goes into the creation of a lot, which seems to be a primary goal for Ben-Joseph, is diametrically opposed the land banking approach employed by many urban lot owners. The irony is that many lots remain flat and featureless over the course of so many years because they are viewed as a "temporary" condition waiting for the next real estate boom, always imagined as being imminent.
These paradoxes all relate to the economics of parking, which is one aspect of the subject matter that Ben-Joseph leaves relatively untouched. The very economy of a standard parking lot design, both in its construction and ongoing operation, is far and away the decisive factor in its resistance to change. In other words, providing excessive supply is a very inexpensive risk for a landowner relative to other types of land development. For this reason, large swaths of many American cities are likely to stubbornly remain unadorned, impermeable, and heat-absorbing blacktop, despite the fact that most are not full to capacity on any given day. It will only be through techniques that lower the operating, construction or regulatory costs that the parking lot can be practically re-imagined.
Matthew Urbanski is a Principal of Michael Van Valkenburgh Associates. As lead designer on many of the firm's large public projects, Urbanski explores the ways in which urban public landscapes interact with other urban forces to enhance and expand the experience of city life. His latest work involves large-scale urban landscapes, including Brooklyn Bridge Park and Hudson Park & Boulevard in New York City, and North Grant Park in Chicago.
Image Credit: (1) Cover Image. In ReThinking a Lot: The Design and Culture of Parking (2012), Eran-Ben-Joseph. (2) Ghost Parking Lot - Hamden Connecticut from Older Eyes,  (3) Dia Foundation Parking Lot, Richard Barnes.